Talk about capturing the moment, add 'real-time' to that phrase now. According to the Wall Street Journal, Meerkat App registered 15,000 users in the first week of their launch
Roughly 17 days ago, Meerkat took the digital space by storm, one live video stream at a time. If you think back over the past 25 years, there have been several momumental moments in history that were caught by reporters, journalists, and photographers alike.
Today history is still happening on a daily basis, but the only difference is that we now have the opportunity to capture it has it happens or in real-time thanks to technology like live streaming video.
Livestreaming is nothing new, Meerkat, is an extremely simply iPhone app, that makes streaming live video even easier.
Meerkat links with Twitter accounts, allowing one person on one side of the phone, stream a live video feed of whatever they choose, or a video selfie of course.
How do you use? It's quite simple:
Download the Meerkat App.
Sign up by logging in with your Twitter account.
You can either "Stream" right away or 'Schedule' a stream for a later time.
Aaaaaand you're LIVE!
Once you're live, you'll see how many people are joining your stream because their profile pic will show at the top of your screen as well as a running count of viewers. Viewers can 'like', ReTweet and comment on your stream. All comments posted to the stream are sent as tweets as well. After your livestream is over, Meerkat App gives you the option to save the video archive. This can be used for future content, event recaps, etc.
Like any social platform, there are rules! Here are The Rules of Meerkat:
"[Meerkat has] been very effective for me," says Gary Vaynerchuk, an Internet personality and entrepreneur whose use of social media and viral video has netted him more than 1.3 million Twitter followers. Vaynerchuk has used Meerkat to broadcast behind-the-scenes peeks of his YouTube programThe #AskGaryVee Show. When you use Meerkat to share video, it automatically tweets a message that says you're broadcasting live, with a link people can click to watch.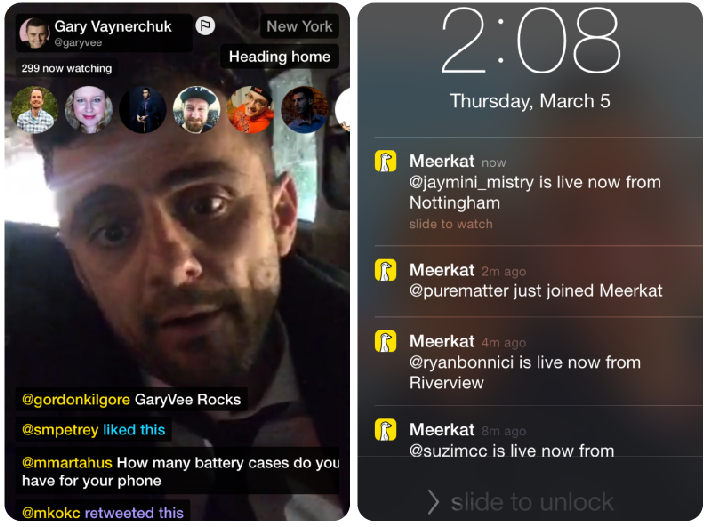 (photo cred: http://bit.ly/1xaVDpV)
On recent quote via Time.com, my buddy Gary Vaynerchuk has this to say about the relevant use and rapid growth of Meerkat App – "Within a few minutes, 500 to 800 people are watching me live, at any given time," says Vaynerchuck. "That is insanity, if you think about it . . . and don't forget, I am a 39-year-old male who talks about business, so my demo isn't the most native to this."
http://sebastianrusk.com/wp-content/uploads/2015/03/meerkat.png
490
640
srusk
http://sebastianrusk.com/wp-content/uploads/2017/05/Png.png
srusk
2015-03-17 12:22:37
2015-03-18 11:40:40
WTF is Meerkat App?! : How to use the hottest livestreaming video app